Opis
64-channel Thunderbolt™ and USB AD/DA
Orion32+ features Antelope Audio's hardware-based effects
Antelope Audio's proprietary FPGA is optimized to run custom equalization, compression, and reverb plug-ins. This potent modeling arsenal includes our vintage EQ models, AuraVerb, as well as other effects to be released – all coming at no additional cost.
64-CHANNELS OF AUDIO VIA THUNDERBOLT™
Connect Orion32 + to any DAW on the market
Orion32 + provides seamless connectivity to any DAW, allowing for low latency simultaneous I/O streaming of 64 channels of 24-bit, 192 kHz audio signal via ThunderboltTM and 32 channels via USB. The analog I/O are handled by 8 DB25 connectors and a pair of TRS connectors for monitoring.
Orion32 + is a successor to the world's first 32-channel AD/DA, now offering a greater variety of interfaces such as Thunderbolt, MADI and USB. The digital connectivity options are complimented also by ADAT and S/PDIF.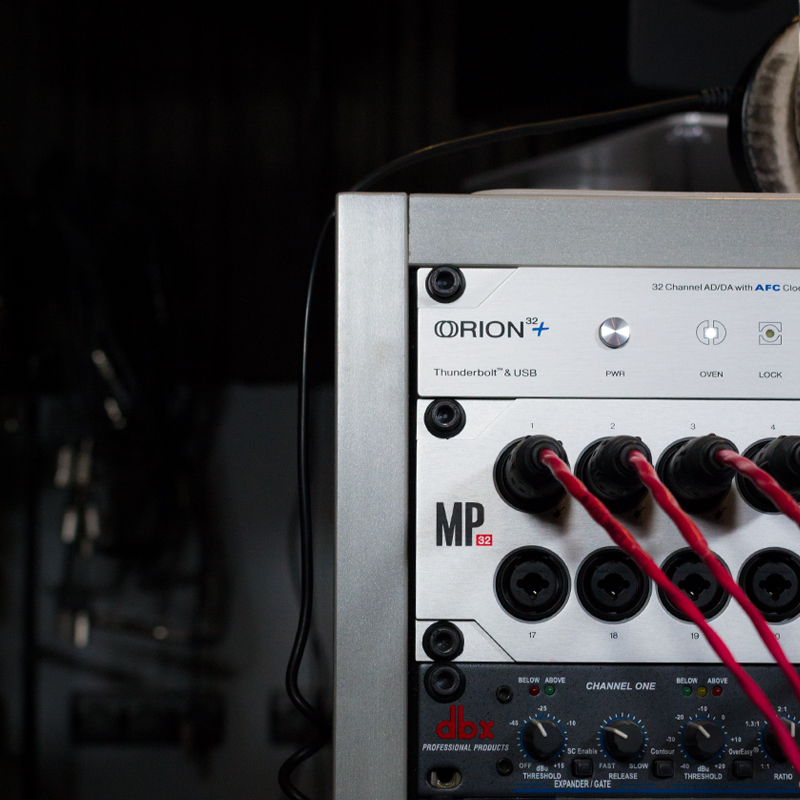 orion 32+ features
64 CHANNELS I/O
Simultaneous streaming of 64 I/O channels 24-bit, 192 kHz audio via Thunderbolt™ & 32 channels via USB
POWERFUL FPGA
Custom FPGA for flawless real-time effects processing & integrated AFX
64-BIT ACOUSTICALLY FOCUSED CLOCKING
AD/DA powered by our world-renowned jitter management algorithm
EXTENDED CONNECTIVITY
Thunderbolt, MADI, USB, ADAT, S/PDIF, 8x DB25
SUPREME
CLOCKING
Oven Controlled Oscillator, 2 WC Outs, WC In, Atomic Clock In
SOFTWARE CONTROL
Routing, mixing, real-time effects processing via OS X & Windows compatible app
STUNNING FLEXIBILITY
Enhanced Routing, Mixing and Monitoring
Orion32 + offers stunning flexibility and great productivity, providing a color-coded routing matrix with four separate mixers, built-in DSP effects and zero latency monitoring. The entire control is gathered in a desktop application available for both OS X and Windows.
The control panel is based on the software created initially for Orion32 and further developed for another Antelope Audio leading product, Zen Studio. Orion32+ control panel is an extremely intuitive user-friendly interface, which incorporates both our know-how and customers' feedback.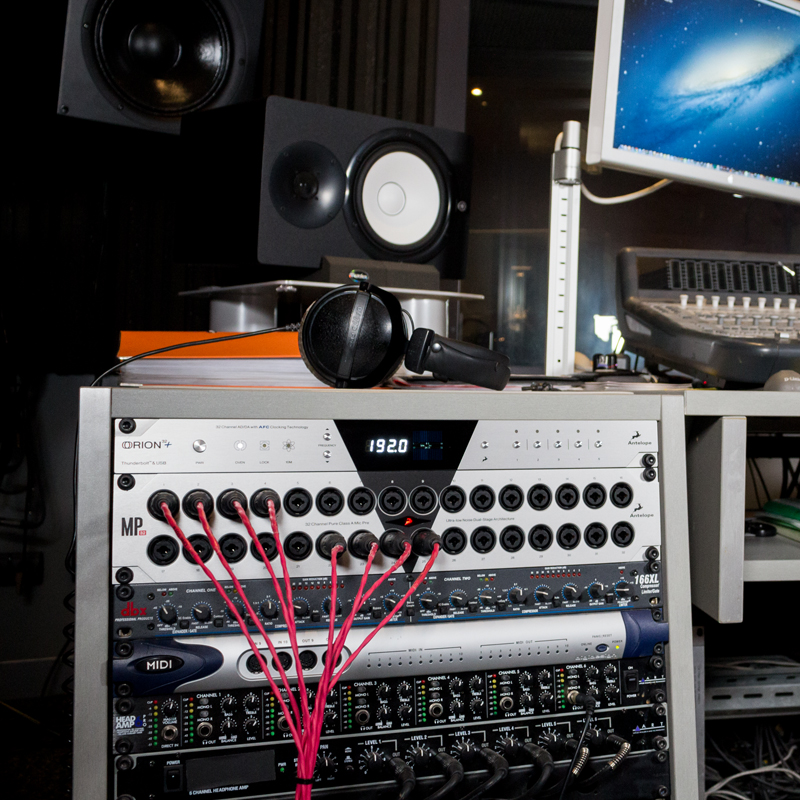 HIGH-END CLOCKING & CONVERSION
Digital clarity meets analog detail in Antelope Audio's signature sound
The proven clocking accuracy is supported by Antelope's renowned 64-bit Acoustically Focused Clocking (AFC) jitter management technology, the same as with the flagship Trinity Master Clock.
The clean, transparent and detailed conversion in Orion32+ is the same as with its predecessor, which has proved its sound quality in a great number of studios and live shows across the Globe.
The 10 MHz input, enabling connectivity to Antelope's legendary 10M Atomic Clock and its successor 10MX, makes Orion32+ crystal oscillator remarkably precise, emphasizing the signature Antelope sound. The two word clock outputs make Orion32+ a great fit in any setup, not only as an interface, but a master clock as well.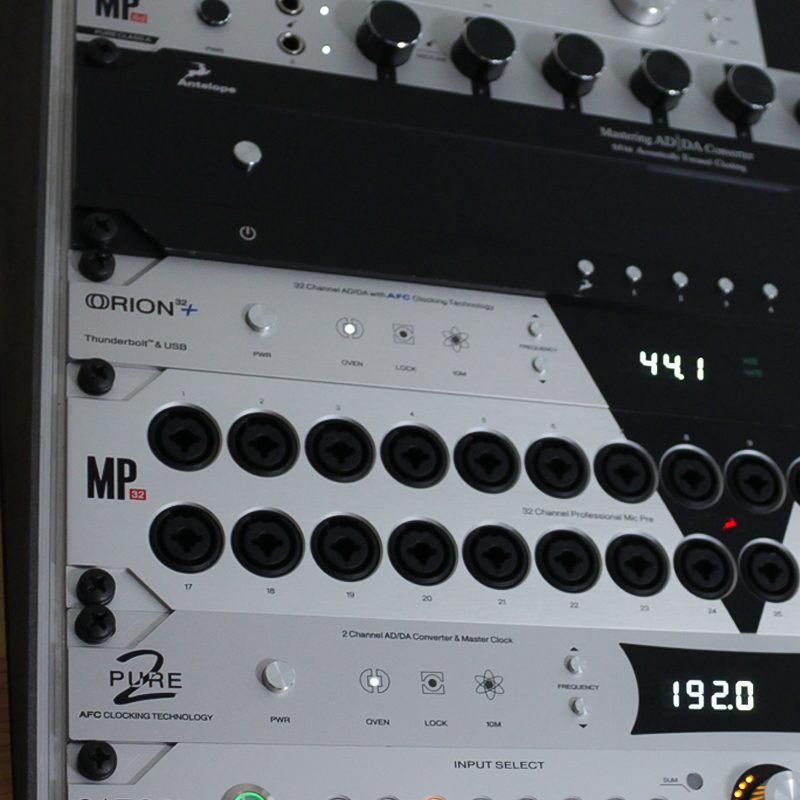 Orion32+ features Antelope Audio's hardware-based effects
Orion32+ features all four members of the Antelope EQ Legends bundle including VEQ-1A our emulation of a legendary tube EQ, which's been an inseparable part of every pro studio in the world. VMEQ-5 will make your mid range shine as never before. VEQ-55A will enahnce all details your mix has been missing. Last but not least Orion32+ gives you the chance to explore the great analog sound of the BAE-1073 – a cult and versatile 70's channel module easily found on all your favorite records.
AuraVerb creates various ambient colors, or "Auras", using a unique algorithm to provide richness like no other reverb plugin on the market. Producers can easily design thickening effects, washing effects, bright halo type film score effects. AuraVerb comes with reverb presets, exclusively designed by the 5-time Grammy Award winning recording and mixing engineer Brian "Dr. Vibb" Vibberts.
REDESIGNED SOFTWARE PANEL
Enhanced Orion32+ desktop application for even smoother studio workflow
Control all Orion32+ features and functions from its freshly redesigned desktop app. OS X and Windows compatible, the control panel follows Antelope Audio's networking control concept, meaning you can now access the interface from multiple computers in the same network. The Orion32+ software panel allows users to detach all its sections into freely movable and resizable panels for more convenient session arrangements, especially important for engineers and artists with multiple screen setups.


Specifications
ANALOG

Analog Inputs
4 x D-SUB 25 (32 channels total), +20 dBu max, 11.2 kOhms

Analog Outputs
4 x D-SUB 25 (32 channels total), +20dBu, 56 Ohms
2 x Monitor Outs on TRS 1/4 Jacks

D/A Monitor Converter
Dynamic Range: 129 dB
THD + N: -108 dB

A/D Converter
Dynamic Range: 118 dB
THD + N: -105 dB

D/A Converters
Dynamic Range: 118 dB
THD + N: -98 dB
DIGITAL

Digital Inputs
1 x Fiber Optic MADI (up to 64CH)
2 x ADAT (up to 16CH)
1 x S/PDIF

Digital Outputs
1 x Fiber Optic MADI (up to 64CH)
2 x ADAT (up to 16CH)
1 x S/PDIF

USB I/O
USB 2.0 Hi-Speed; Data stream up to 480 Mbits/192kHz,
32 channels I/O, Type B

Thunderbolt™
1 x Thunderbolt™ (64 channels I/O)
CLOCKING

Word Clock Input
1 x Input @ 75 Ohms 3Vpp on BNC 32 – 192kHz

Word Clock Outputs
2 x Outputs @ 75 Ohms 3Vpp on BNC 32 – 192kHz

Atomic Clock Input
1 x 10M Input @ 75 Ohms 1Vpp on BNC

Clocking System
4th Generation Acoustically Focused Clocking
64-bit DDS
Oven Controlled Crystal Oscillator

Clock Stability
<+/-0.02 ppm, oven controlled at 64.5ºC/ 148.1ºF

Clock Aging
< 1 ppm per year

Clock Calibration
< +/-0.001 ppm

Sample Rates (kHz)
32, 44.1, 48, 88.2, 96, 176.4, 192
OTHER

Operating Temperature
0-50°C, 32-122°F

Weight (Approx)
3kg/ 6.6 lbs

Dimensions (Approx)
Width: 483 mm / 19"
Height: 44 mm / 1.75"
Depth: 220 mm / 8.66"

Electrical specs
AC Universal input: ~95-245 V
Power Consumption: 20 Watts Max

In the box
Orion32+ 32-channel AD/DA Interface with AFC™ Clocking Technology
Owner's Manual
Warranty Card
Power cable
USB cable